Spanish cauliflower rice substitutes tiny "grains" of cauliflower for long grain rice in this aromatic side dish that gets its color from tomato. The Mexican mirepoix of green bell pepper, garlic, and allium deepen the flavors of cauliflower Spanish rice for an unexpected way to swap in vegetables.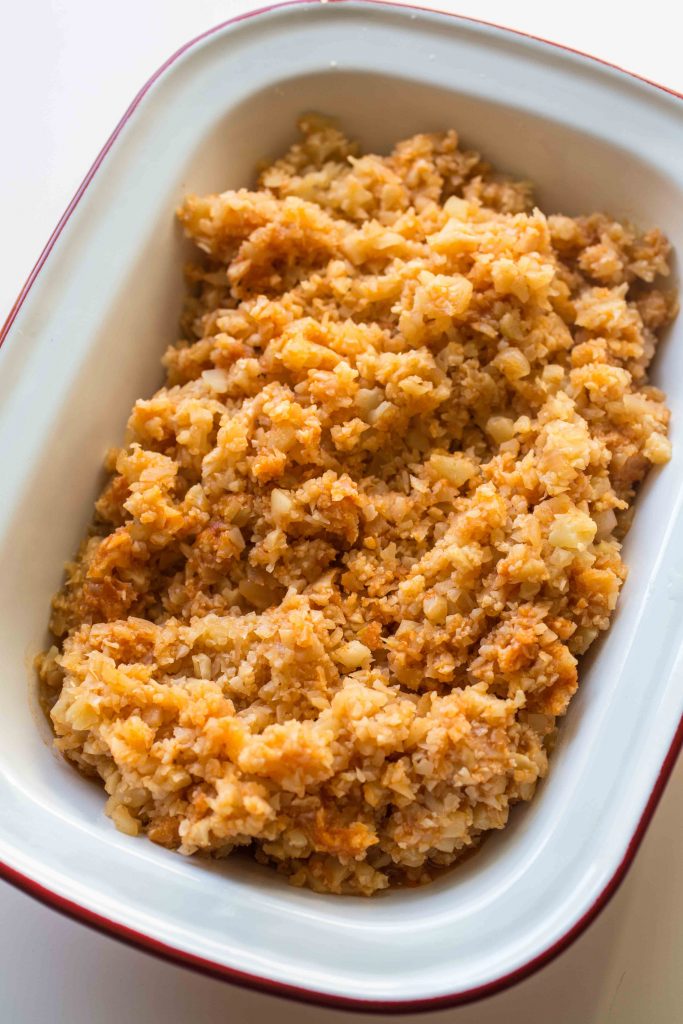 Mexican Rice or Spanish Rice: What's in a Name
Does the moniker Spanish cauliflower rice rub you the wrong way as it did me? But, one thing that can be interesting is to consider historical implications through the foods we eat and how the flavor combinations tell us something about the past. In my studies and passion for Mexican cooking, there are moments where the Spanish influence peeks out. Two ideas are suggested as to the name: Spaniards bringing rice to Mexico in the 1500's from overseas or the connection of language to the style of rice.*
Growing up we called red rice Mexican rice and one dish I still crave whenever I visit my mom is her rice. I'm not alone in this craving.** She uses long grain white rice and knows that toasting the rice is essential to drawing out the flavor. I still make rice in this fashion but sometimes I want to get another vegetable on the table, knowing usually it will be accompanied by another whole grain: corn ground down into tortillas.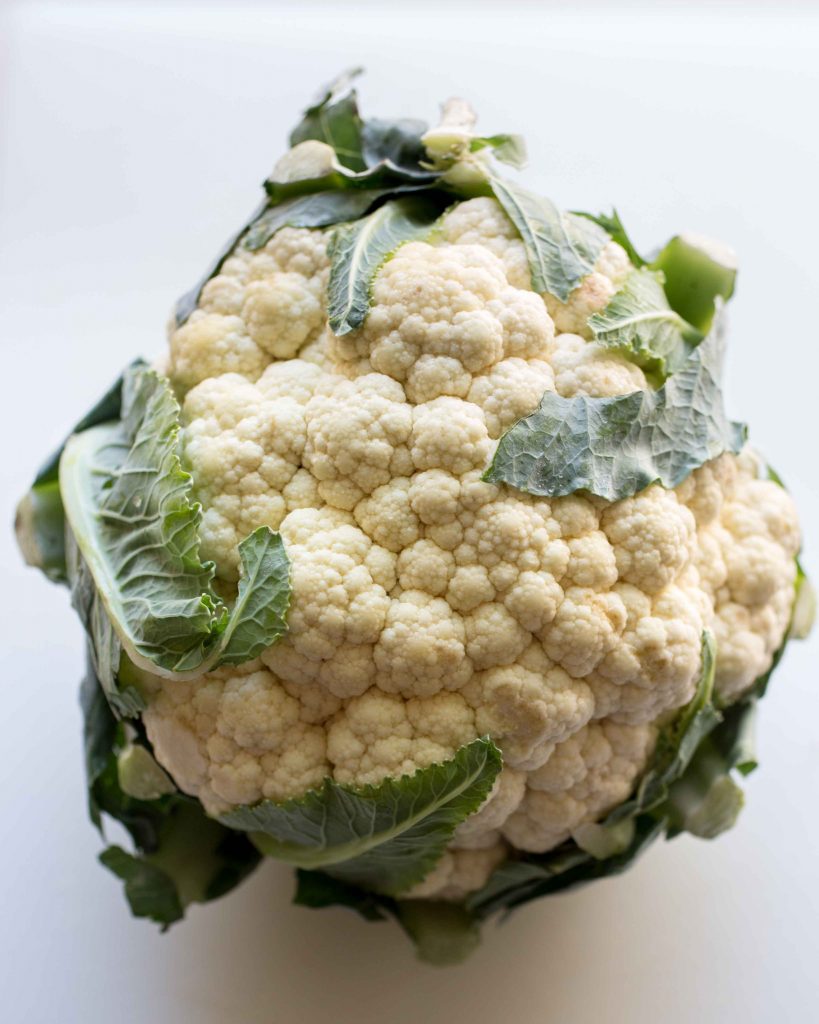 How to Cook Spanish Cauliflower Rice
First, you need to rice cauliflower. Then, prep the infusing broth, mixing together the umami bomb of tomato paste with vegetable bouillon based broth. Next, you infuse oil with the trifecta of green bell pepper, shallot, and garlic until golden. Stir in the riced cauliflower, coating it in the scented oil. Then, in goes the tomato infusing broth. Cover. Cook.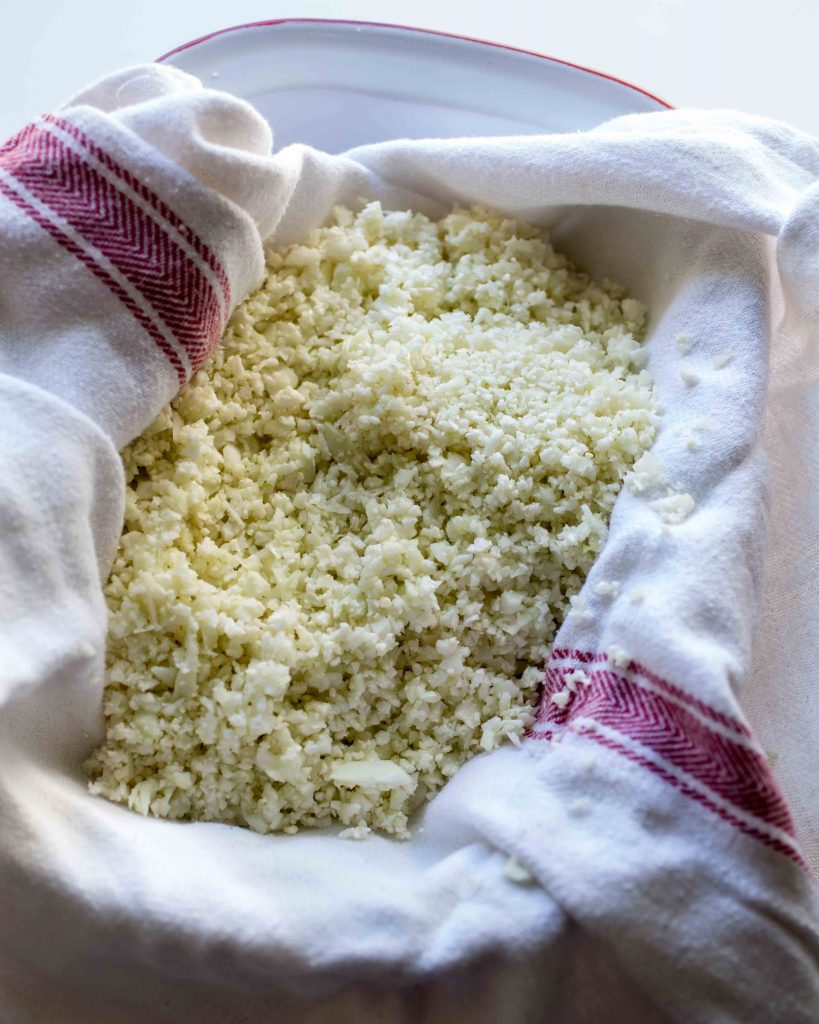 Flavor Boosters
Often Spanish rice involves tomato sauce paired with chicken broth and I don't find that vegetable broth quite does the same thing flavor-wise, keeping the flavors muted. Tomato paste and bouillon have something in common in that they both concentrate the flavors, giving a mighty boost to cauliflower Spanish rice. You can always buy tomato paste by the can (it's good in so many things!) but I tend to buy it in tubes so I can keep the leftovers in the refrigerator. As for the bouillon, you should be able to find it in cubes or jars of paste, which is what I use.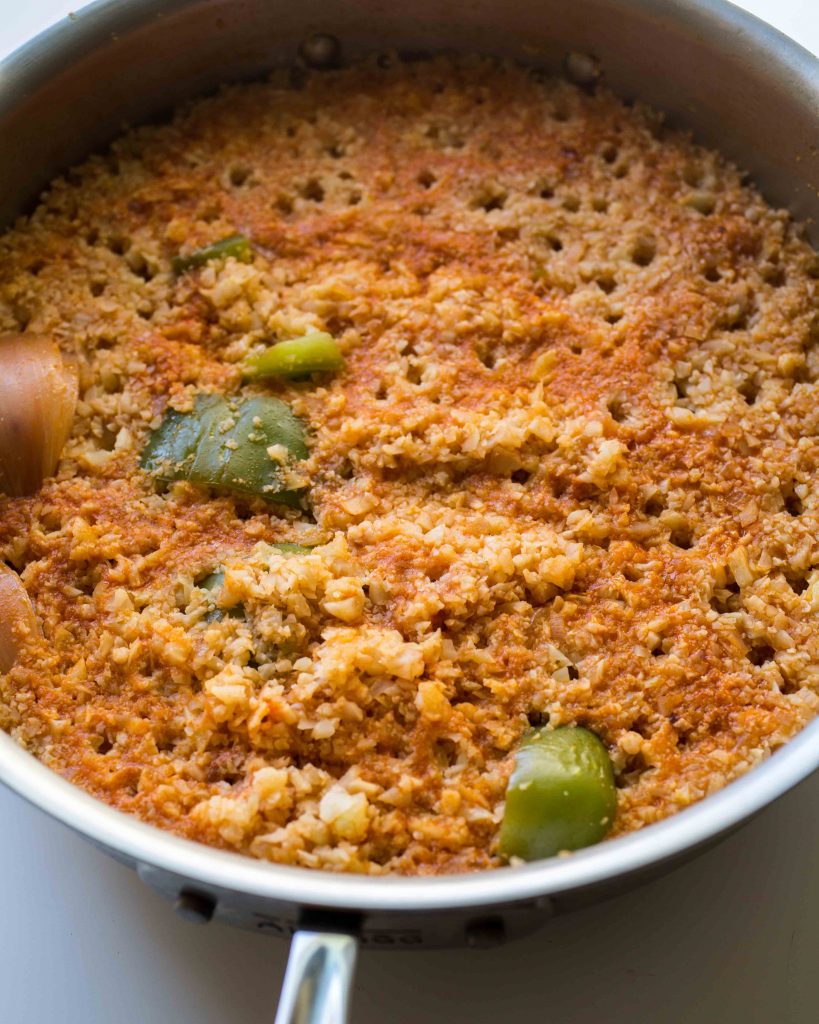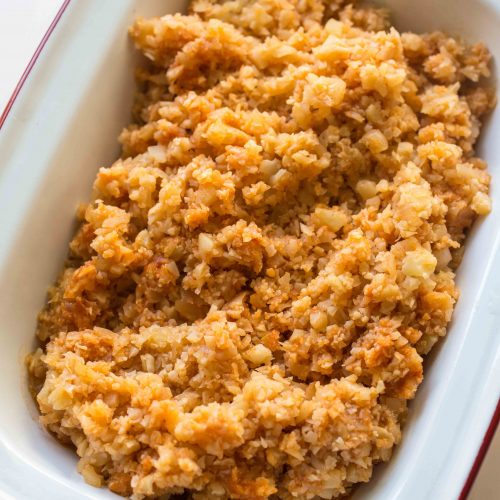 Spanish Cauliflower Rice
Swap out grains for Spanish cauliflower rice, a twist on the traditional side dish. This red cauliflower Spanish rice is a delicious way to eat more vegetables.
Ingredients
3

teaspoons

vegetable bouillon

2

cups

boiling water

2 1/2

tablespoons

tomato paste

1

(1 pound)

head cauliflower

1

shallot

, peeled and root end removed

2

tablespoons

safflower oil

(or other neutral oil)

2

garlic cloves

1/4

green bell pepper

, seeded and cut into 4 pieces

Cayenne pepper
Instructions
Whisk together bouillon with boiling water and tomato paste.

Remove cauliflower stalk and leaves. Break down the crown into florets. Process the florets in two batches in a food processor outfitted with a blade attachment, pulsing 35 beats. Use a spatula to extract all riced cauliflower from the machine into a bowl.

Cut shallot in half. Set one piece aside and mince the the other piece.

Swirl oil into a large saute pan set over medium heat. Once shimmering, add all of the shallots, garlic, and green bell pepper, sauteing and turning the whole pieces of aromatics until the minced shallots are translucent and aromatics are golden.

Tumble in riced cauliflower to coat in oil. Turn heat to medium high and cook for 1 minute. Pour in tomato infusing broth, and a dash of cayenne if desired. Stir to combine. Cover and cook for 6 minutes or until liquid cooks out.
SOURCES:
*The Spruce
**Saveur