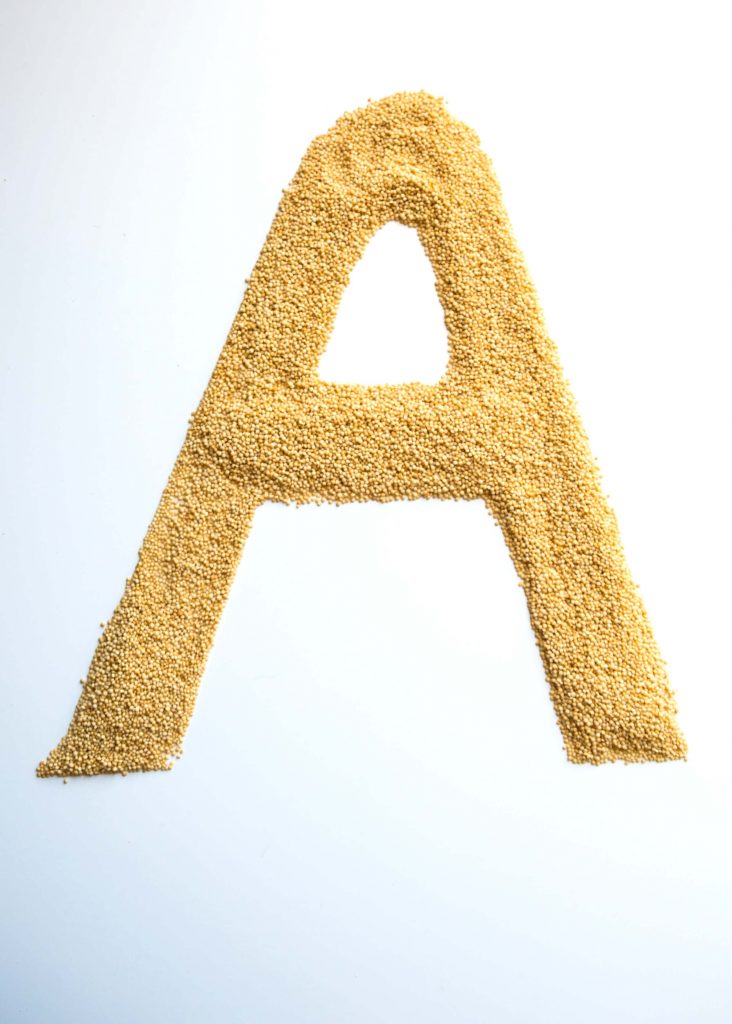 In preparation for my weeknight whole grains class, I partnered with Bob's Red Mill to share tidbits on how to cook amaranth (including one of my favorite ways: popped amaranth). This is a sponsored post, but if you were to look at my glass jar lined pantry that's been filled with Bob's Red Mill whole grains for years, you'd know my obsession with their quality and whole grain offerings  is unsponsored. I've known the team at Bob's Red Mill for years and am so glad almost a decade ago, my curiosity deepened as I got to see firsthand  at their plant the process of cutting grains or sifting them into large bags to later be siphoned into the ones you and I buy at the store. I interviewed Bob for a story back when the company was still privately held, before it had been given to its employees. I say this because, I trust them and will occasionally partner with companies I think are doing it right. I trust their products to be excellent because that's the kind of guy he is and ship he runs (plus I love his spirit of welcoming others in, whether leading a marching band up Natural Products Expo West show aisles or at the Bob's Red Mill plant where he and his assistant Nancy played pianos together as he sang).
Don't miss why rolled oats are made for weeknight meals, part of the Weeknight Whole Grains class.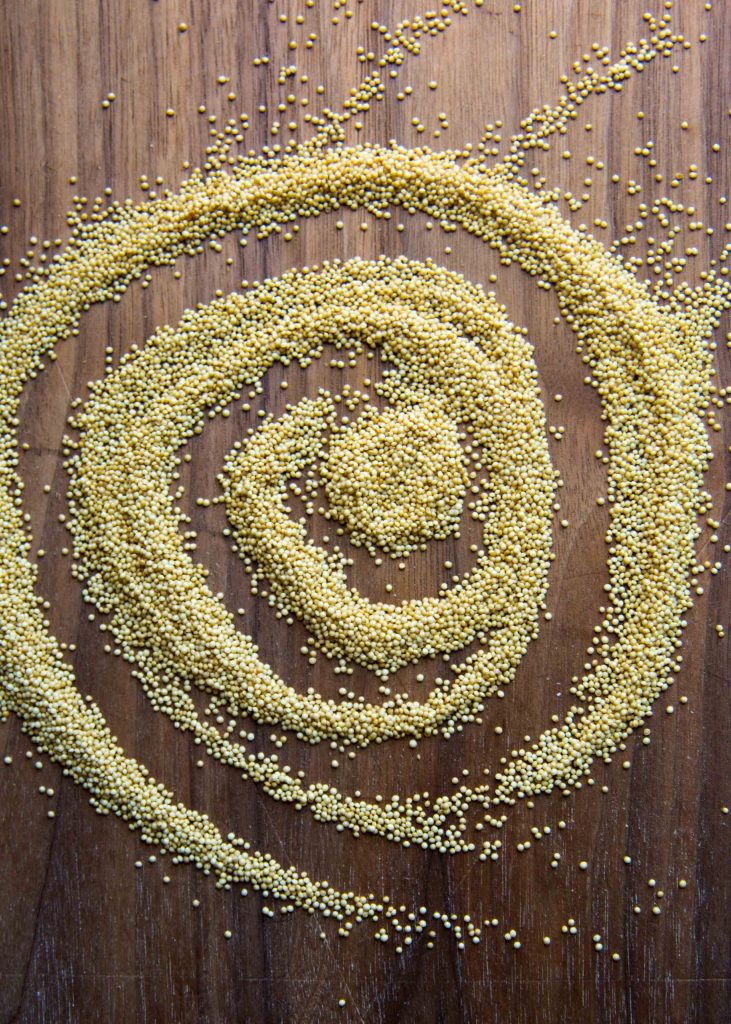 What is Amaranth
When you think of whole grains, I bet cooking amaranth does not come to mind. (And if we're being honest, it's actually a pseudo-cereal that can sneak its way into the whole grain category). This ancient grain dates back 4000 years when it was a vital part of Incan and Aztec diets. It's a nutritional powerhouse, so the big idea here would be thinking about combining grains and thinking about how to add amaranth to your plant-based protein sources. Let's explore how this little grain can be part of your weeknight meal planning and how to cook amaranth.
Amaranth Nutrition
This would be the Tinder equivalent of swipe right because if you're looking for an additional source for plant-based protein, you can't beat that 1 cup uncooked amaranth has 26g protein. So, said another way 1/2 cup serving of cooked amaranth has 14g protein in it. Contrast that with quinoa where 1/2 cup serving has 4g protein. Clear winner! In fact, it's considered a complete protein.*
But Can I Eat It: Is Amaranth Gluten-Free
Amaranth is naturally gluten-free.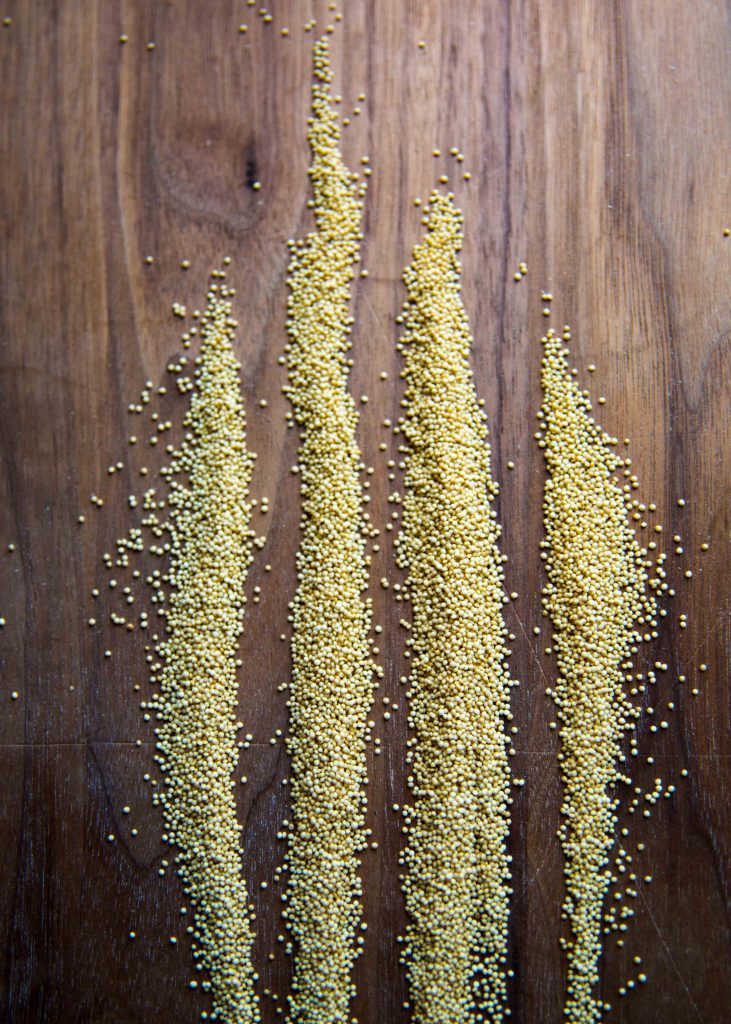 Cooking Amaranth Around the World
You can find amaranth as a common ingredient in Nepal, India, Africa, and China. But first, it had its roots in central America.
MEXICO
I first stumbled upon amaranth in an unlikely place—a candy shop in a granola-type treat with popped amaranth that translates into English as "happiness" and alegrias certainly induce that emotion!
They're sticky bars or balls that can include pepitas (or peanuts) and honey. Dried cranberries or raisins are great mix-ins too. And if you dip them top down in warmed chocolate, you've got an indulgent treat indeed.
Head below for more on the method and an alegria inspired idea. (And head to the Further Reading section to hear why amaranth was outlawed!)
Did you know that when in Mexico, you might be eating amaranth greens but not know it, under the moniker of quelites.
This ancient grain is experiencing a resurgence in Oaxaca where the seeds are showing up as coating on chicken, topping on chocolate cake, baked into burger buns, and even in agua fresca.
PERU
A native crop in Peru, known there as kiwicha, this grain is cooked and eaten as porridge.
INDIA
More often in India, amaranth leaves are eaten. Known as chauli or tambdi bhaji, I found in my research that they show up in stir-frys or saag dishes. I can't say that I've ever seen amaranth leaves, but they should be cooked.
Amaranth has a nutty flavor and its texture depends on how it's cooked.
Let's Cook: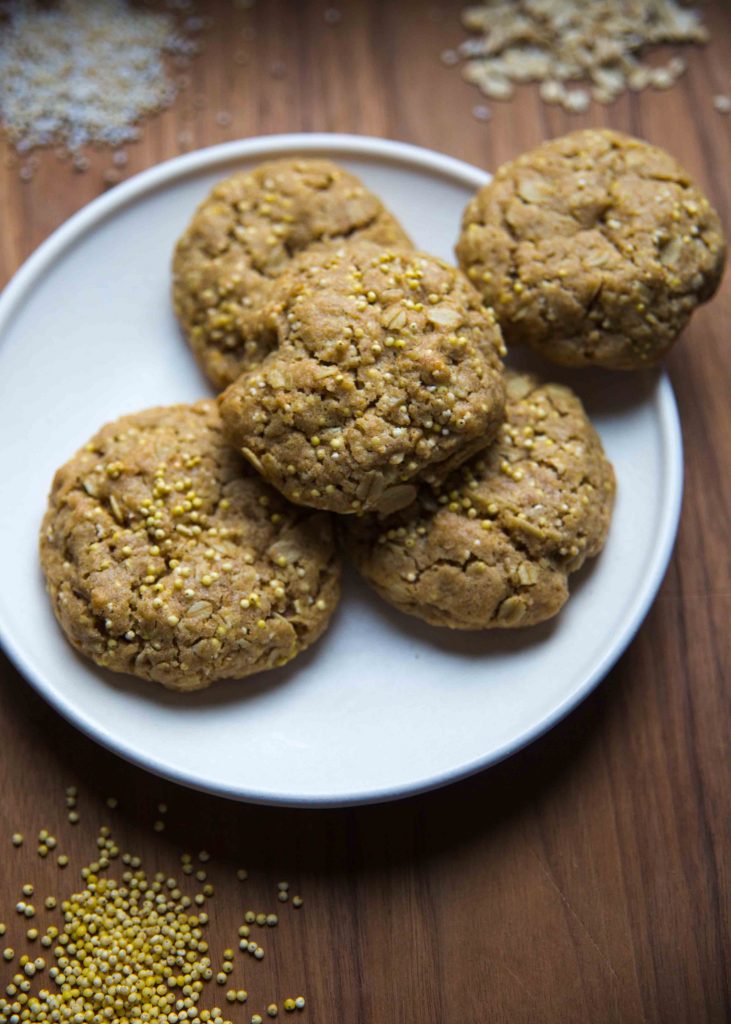 How to Cook Amaranth
Some whole grains you can eat raw. This isn't one of them. Here are a few methods for cooking amaranth.
Prep Ahead or Last Minute
No advance soaking or rinsing required.
Liquid to Amaranth Ratio
1 1/2 cups liquid : 1/2 cup amaranth
Cooking Time
20 minutes
Typical Serving Size
1/2 cup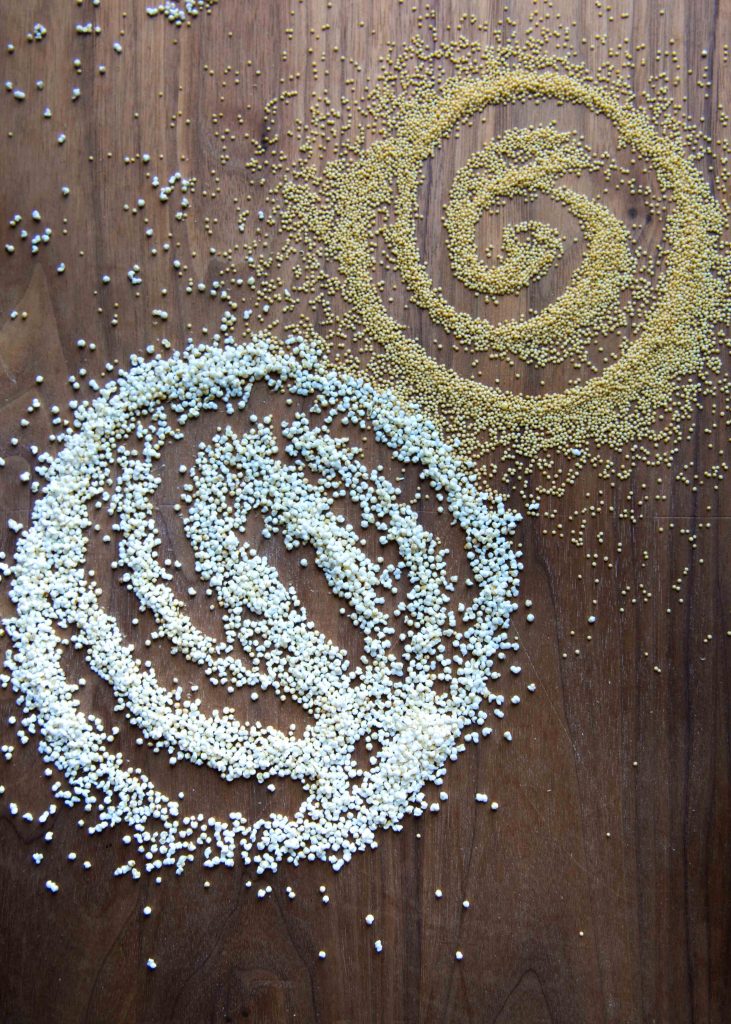 1. Cooking Amaranth
When cooked with liquid, amaranth plumps up and gels not unlike chia seeds. And, like those chia seeds, you'll find they will always be a bit crunchy. If you've never eaten amaranth porridge, crumble in cheese for an alternative to grits.
Recipe Ideas with Amaranth
2. Popped Amaranth
Popping amaranth is hands-down my favorite way to eat it. It weighs next to nothing, melts on your tongue and is like tiny popcorn that adds a bit of texture. I even included it in my favorite almost savory Green Tea Granola in my cookbook, Steeped. You can buy popped amaranth or, with a little patience, you can pop your own. Here's how:
How to Pop Amaranth
Place a small skillet over medium heat. Place a lid on the counter close by. Dribble a drop of water into the skillet. When it sizzles, your pan is hot enough. Measure out 1/4 teaspoon into the skillet and almost instantaneously the amaranth should start popping—cover with the lid and stay alert!—it only takes a few seconds to pop and can go from popped to burned very quickly.
Storing Popped Amaranth
Keep it in a sealed container on the counter for about a week or so. It will taste stale and smell rancid if you go longer than that.
Recipes with Popped Amaranth
3. Amaranth Flour
You can buy amaranth flour and because you know it has a bunch of protein in there, it can be a good one to layer in with either whole wheat pastry flour, spelt flour, or all-purpose flour when baking for a protein boost. You can also grind your own flour using amaranth seeds. The flavor is a little malty and nutty.
Recipes with Amaranth Flour
Storing Amaranth Flour
Keep it in a sealed container away from light, heat and air. I tightly seal the bag and secure with a rubber band, storing it in the freezer. Store it in the refrigerator or freezer, as I do, for best shelf life.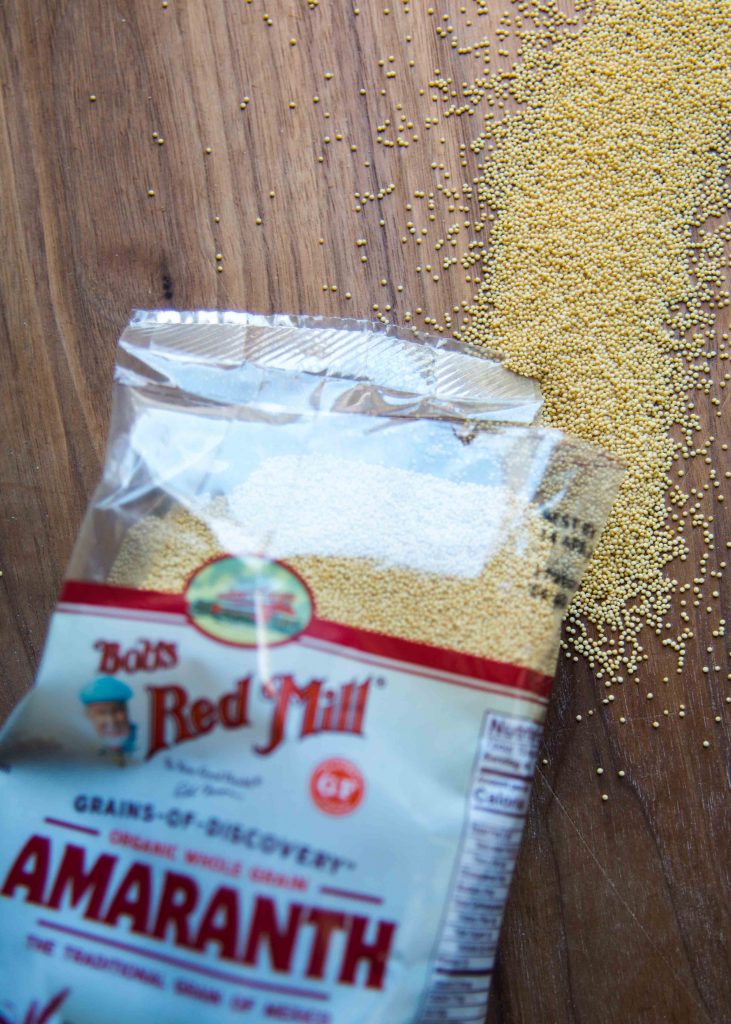 Where is Amaranth Sold
In the United States, you'd be hard pressed to find amaranth easily on store shelves. While it may have a stronghold in other cultures, it's not the darling, quinoa. Search the whole grain aisle at the grocery store. Better still, look for raw amaranth seeds at a Latin market or buy it online.
How is Amaranth Sold
Amaranth is sold as raw seeds, popped seeds, and ground into flour.
Further Reading